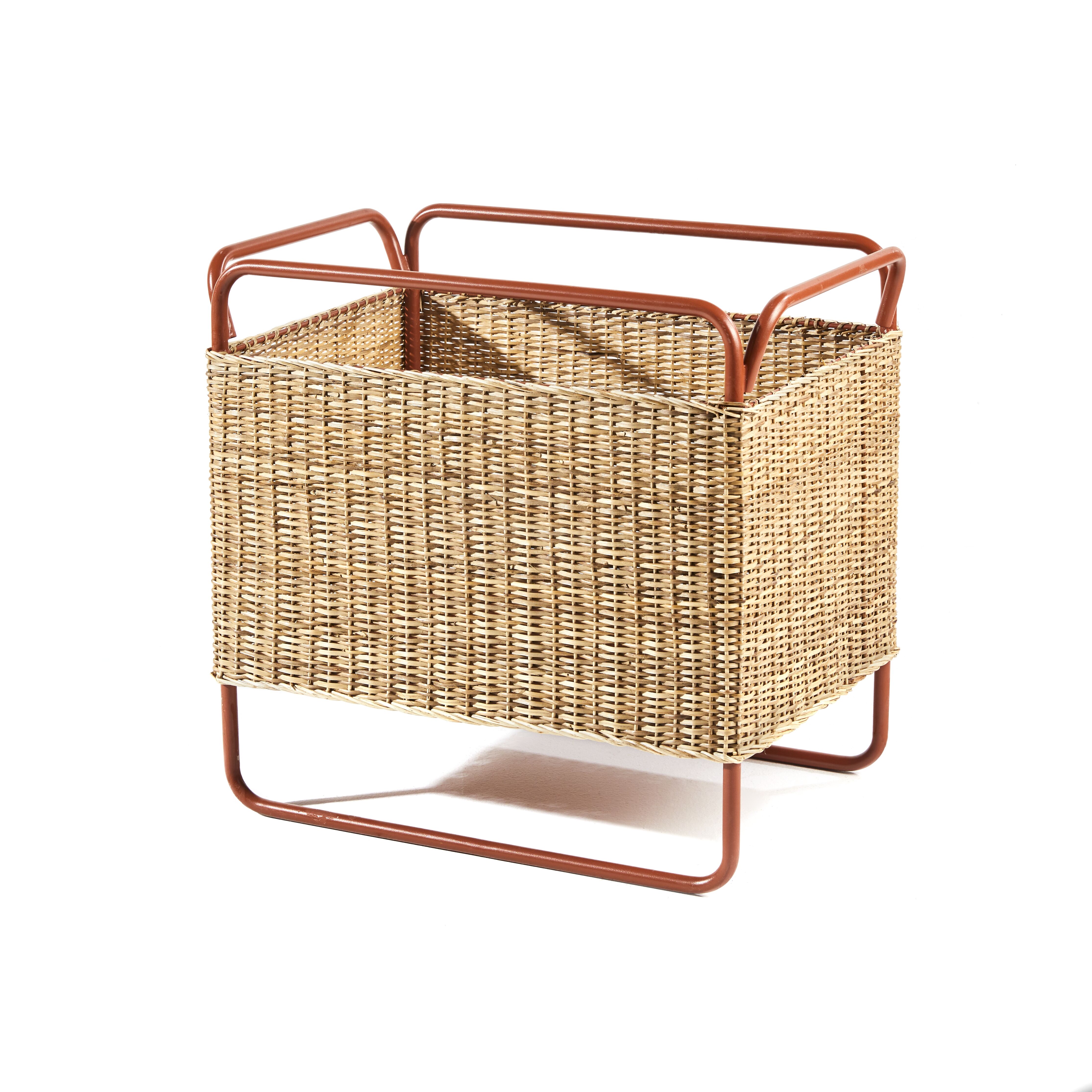 Product number:
00ADIC4N-C
Width: 380 mm
Height: 650 mm
Depth: 380 mm

Material
Wicker from Bejuco roots
Galvanized and powder coated tubular steel frame


Care instructions
Wipe clean with a dry cloth, do not use chemical cleaners on the webbing. To protect the colours, avoid exposing the product to direct sunlight over long periods. Protect the product with a cover or store it indoors during winter or harsh weather conditions. If the product is exposed to sea air, wipe the metal frame regularly with a damp cloth. Fitted cover sold separately


ames presents a new take on the Dichas collection, designed by Cristina Celestino: this basket now comes with a webbing made from natural wicker. The beautiful storage piece will enrich any interior with the calm beauty of its natural material, which is gently enhanced by the intricate texture of the webbing. The Dichas collection combine a simple steel frame with ornaments and a webbing woven with the roots of the Bejuco plant. In Colombia, there's a long history of using wicker to craft the baskets for the arrieros, the coffee pickers, who use them to collect the beans on the plantations in the country's hinterlands. The basket can be used as a smart planter or storage unit for cushions, glasses or towels. 'With Dichas, I wanted to create a collection of versatile storage pieces that can travel through different rooms of the house – and they can even find a place outdoors.', says the Italian designer about the series.
The craftspeople in the ames ateliers apply an exceptionally intricate weaving technique to create the Dichas Natural pieces. The result is a particularly dense webbing made from the roots of the Bejuco, which wraps around the basket. This vine-like plant grows in the Eje Cafetero, the coffee-growing region of Colombia, where people use it to make baskets to collect coffee beans. The plant's roots are dried in the sun and prepared for ten days to separate the bark from the inner, softer fibres. The artisans weave these fibres then by hand around the steel frame in a process that takes up to five days.


Cristina Celestino is one of the most prolific contemporary italian designers. Her products and interiors share a softness, often defined by curved lines, a love for pastel hues and subtle links to Italy's rich design heritage. She graduated from the school of architecture at IUAV University of Venice in 2005 and started working as an interior and furniture designer.